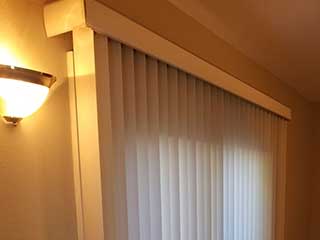 Here at Motorized Blinds San Ramon, we make all sorts of custom window treatments for any room in any building in the nearby sections of the greater San Francisco area. Some window frames don't work well with the usual sideways-pointing panel blinds, but you still want to give them that solid, adjustable cover. In those cases, you can get vertical blinds sets for windows and doorways that are too long and low for the traditional type. If you want the best tailor-made vertical blinds at the lowest prices on the local market, you've come to the right place!
Vertical Blinds For Homes And Offices In San Ramon
Anyplace with longer, lower windowpanes can make better use of this style of blinds than horizontal ones. Kitchens, living rooms, and upstairs hallways all sometimes have picture or wall-length windows. Bedrooms, bathrooms, and others are less common, but still exist! In the workplace, vertical blinds for office windows and restaurants or storefronts serve a vital purpose. Since vertical blinds rotate and open to the sides, you can keep the sun out of seating areas and computers while still lighting the room.
Vertical Blinds – Cover French & Patio Doors
Windows aren't the only places for this type of blinds. French doors, sliding glass doors, and screen doors with vertical blinds get many of the same benefits. Our team can install another set of tracks alongside the existing ones to house the new set of vertical blinds. Another option is to attach a bar overhead and hang the vertical blinds from it, with wheels on the bottom of each panel. Glass doors often lead into rooms with sensitive interiors, so once again sliding blinds that can protect parts of the room work best!
Vertical Blinds With Curtains And Motors
With our company, you can get your window treatments installed with any number of accessories and extra features. For instance, vertical blinds share the same household niche as curtains. By doubling some blackout blind panels up with a pair of thin curtains, you can give yourself unparalleled light control. To get the most convenient and reliable product possible, try some of our motorized vertical blinds. With a remote control, adjusting the blinds multiple times per day is much less of a chore. Get a unit with timer or photosensor features, and you won't even have to remember to adjust them at all! Motorized vertical blinds suit San Ramon office spaces as well as residential homes. They can improve any room and cover window walls especially well.
Customize Your Blinds With a Free Consultation
Home and business owners in the San Ramon area have total design freedom when it comes to blinds, vertical or otherwise. With every order of window treatments, we provide a complimentary consultation appointment with our interior design experts. They'll help you choose the best style and color scheme for any room, and provide an estimate before we start production. When your new products are ready, we can provide delivery and installation services as well. When it comes to vertical blinds installation, we can take care of tracks, rollers, and motorized feature programming as well.
Great Vertical Blinds At Low Prices!
If you want the best possible quality at the lowest local prices in the San Ramon area, give us a call to see all the options! With vertical blinds, you can choose all sorts of materials and colors, as well as different motorized features and room darkening or blackout options. Pick and choose what suits you best. We'll take care of the rest.