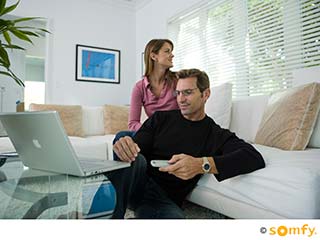 These fantastic smart window treatments bring a lot of beauty to your property. But the benefits don't stop there, because these smart blinds also provide a lot of advantages when it comes to natural light and energy efficiency. These blinds allow you to schedule your blinds throughout the day, so they automatically adjust their position to get the best out of the sunlight. In San Ramon and the surrounding areas, our team provides made-to-measure motorized blinds and shades for windows, built to your exact requirements. Perfect for large window walls or skylights, these are great for making sure you can control sunlight throughout the day.
Convenient Remote Control Blind Systems
It's easy to install motorized versions of nearly any blinds installed at your property. You'll always get the very best design and quality, and you can choose whatever type of blinds you want. Vertical blinds, for instance, are great for offices and homes in San Ramon that need to cover up large window walls. Venetian blinds are a very popular and classic choice, and when you motorized these blinds they become extremely convenient and effective.
Motorized Versions Of Draperies And Shades
Motorized window covering technology from Somfy is also a great partner for softer shade solutions. Use this technology with blackout curtains for a convenient, effective way to provide privacy in the bedroom. Roller shades with Somfy motorized capabilities also offer living room and kitchen windows a beautiful, effective cover for any size of glass surface, with the choice of sheer or blackout material to create the perfect type of natural ambiance.
Somfy Motorized Patio Covers
Rolling pergola screens and motorized awnings with Somfy technology built-in are amazing additions to your outdoor lounge spaces. You need proper shade when you're outside, particularly in pool and backyard patio areas. Use Somfy motorized shades to keep harmful UV radiation off of your skin and provide a space to avoid sunburn. Install Somfy motorized shade products for your gazebo, pergola, deck, or other outdoor shade structure.
Best Somfy Motorized Blinds Installers Near You
Whether you need shades, blinds, or rolling shutters with motorized Somfy technology, near San Ramon, we're the top source for these high-quality products. Find out about our wide range of motorized blinds and window coverings by contacting our team today. Arrange a time for a free consultation to get all the details you need!