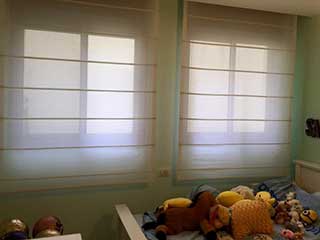 San Ramon homeowners looking for the most decorative window coverings possible should take heed! Our custom Roman shades are more affordable than they've ever been, and they can turn your house into a palace! The elegance brought along with Roman-style window coverings dates back to ancient times. It's no wonder Roman shades have lasted for as long as they have. The wide variety of styles alone makes them a hugely popular covering option for home and office windows.
What Are Roman Shades?
Even if you've never heard of this style, you've most likely seen it. Roman shades are hanging fabric window treatments with a complex system of looping strings or semirigid panels inside. As you raise them, they fold along multiple seams to form a beautiful rippled or pleated surface. When opening all the way, they form a kind of ribbonlike ornament hung across the top of the window. Though spectacular enough on their own, Roman shades with curtains and valences are even more attractive, and more functional too!
Why You Might Prefer Them
To start with, these are probably the most appealing style of window treatment out there for domestic and similar environments. They're also, despite their rich textured appearance, very simple to operate and make a good background or base for other features. Since they remain folded up over the top of the pane even when opened, Roman shades are best on tall windows with plenty of room. You can also put Roman shades on French doors or other sliding glass entrances. Since our Roman shades are available in all fabric types, including blackout material, they can also be quite protective.
Affordable Custom Roman Shades
Fabric types of Roman shades aren't the only details you can choose with our San Ramon custom design service! You can have any color or pattern, with checkered, black, and gray Roman shades all being popular choices. Embellish your set with embroidery, slits, or tails. Add valences or lace trim, or even extra curtain or blinds layers to work with the shades. If you'd like something even more attractive to the eye, we can design a set of relaxed Roman shades with a sloping, curvy hem. Before every order of blinds, shades, or drapes we offer customers a free estimate. Just give us a time and an address in the greater San Francisco bay area and our interior designers will help you dream up your perfect set of shades, Roman or other!
Pleated Window Shades For Any Room
Living and bedrooms are the most popular destinations for Roman shades, but they're not the only ones by a long shot! Every part of your San Ramon home or office can improve with the right custom coverings. Roman shades for kitchens can create a rich, even decadent environment for preparing and enjoying your meals. If they contain big enough windows, bathrooms with Roman shades can also make for a pleasant novelty! With our selection of water-resistant fabrics and room-appropriate colors, you can make a custom set for any room with the windows or doors for it!
Motorized Roman Shades Options
You can make your new Roman shades easier to use and safer for children by getting an electric opener instead of a drawcord. By adding an electric motor and Wi-Fi connectivity, your life will begin to feel a lot easier. Motorized Roman shades are simple to design and install, and much more affordable than they used to be! You can upgrade your motorized Roman shades with a timer, or even a sunlight sensor, that will open and close the shades as needed. Or, if you're the self-reliant type, you can stick with the good old remote control and wall console options. We can do it all, including making your new motorized Roman shades compatible with Amazon Alexa!
Book Your Free Consultation Appointment Today!
Now is a better time than ever to get some brand-spankin' new Roman shades for any local home or business. Call us from anywhere around the San Ramon area, and we'll book you for a free no-obligation estimate. See our incredible selection of fabrics, styles, and colors and choose the combination of Roman shades you like best for your needs and budget!