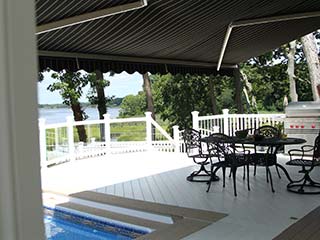 To protect yourself while spending time outdoors, motorized patio covers offer the best combination of features and design. Patio covers serve a very important purpose, shading you from the harsh and dangerous UV radiation of the sun. You have a variety of options you could go for when choosing new patio covers, including pergola screens and canopies, and even motorized awnings that add extensions to the coverage. With help from experienced San Ramon motorized patio cover installers, you'll customize the perfect solution for your needs, taste, and budget.
Motorized Awnings For Decks & Patios
The main benefit of awnings, besides an aesthetic design addition, is offering shade in areas where you may not have the infrastructure to put a stable overhead cover. Awnings can protrude from walled sections or patios, offering extended coverage from the hot sun. Motorized awnings offer an enhanced solution, letting you control when they extend and how much. This addition to your San Ramon backyard, deck, or patio can significantly improve the convenience of staying in the outdoor space throughout the day.
Pergola With a Motorized Canopy or Rolling Screens
Many people choose pergolas as outdoor shade structures for their look and the fantastic utility they provide. Motorized pergola canopies enhance that functionality with a remote control solution for shade, giving you the ability to adjust protection according to where the sun is located in the sky at the time. Motorized pergola screens and canopies serve as the complete package. Pergola screens can protect you from the sides, while also providing better privacy, and the motorized canopy takes care of the overhead shade.
Find Motorized Covers For Your San Ramon Patio
There's a huge variety of options for you to choose from, and the easiest way to decide is to consult professionals. Our experts on motorized patio covers in San Ramon help customers consider all the options and choose the features and design they want for their awnings, canopies, and other motorized coverings. Use our free consultation appointments to learn about the different options and find the best outdoor shading solution for your needs!