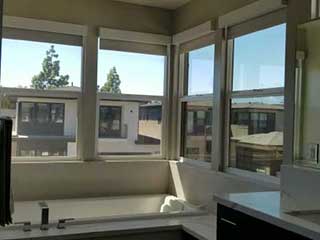 Old fashioned window treatments needed heavy cranks or dangling cords to operate. Aside from creating wear and tear on the mechanism, this takes some time and effort out of your schedule. The hanging cords could even be dangerous for children. With remote control motorized blinds, these issues are no more! We design custom motorized blinds and shades, and install them all around the San Ramon area for prices you won't find elsewhere. Read on to learn more about our motorized window coverings, or call us today and ask in person!
Motorized Window Treatments Of All Kinds
Almost any kind of window covering is motor-compatible. Interested in motorized Venetian blinds? We have wooden, composite, and metal options available in both horizontal and vertical structures. How about something soothing and protective for your bedroom window? Our motorized blackout blinds come in all colors and with a wide range of textures and fabric linings. If blinds are too bulky or inelegant for your tastes, there are other motorized window treatment options! Consider some automatic curtains or motorized roller shades. If you really want to go all out, there are even layered shades and Roman pleats!
San Ramon Motorized Blinds Installation
Remote controlled blinds can be complicated to set up. This is especially true if you want to integrate them into a smart house system like our Lutron products. CompanyName provides delivery and installation services for our custom motorized blinds and shades. For remote control motorized blinds, we provide programming and connectivity with Alexa, Google Home, and similar apps as part of the installation. Get the installation as part of a package deal with our motorized window treatment custom design and production services!
Somfy And Lutron Blinds Products
We make sure to use the best components when creating our motorized blinds and other products. Somfy Systems and Lutron Incorporated are two of the most trusted manufacturers of motorized window treatment materials and parts. If you want motorized blackout blinds, solar shade fabric, or similar specialized materials, Somfy excels at solar and heat manipulation. If integrated smart systems are on the agenda, Lutron's remote control blinds and integration technology should hit the spot. We can assemble your motorized window treatments from any combination of components. We've pulled off some intricate and high-functioning custom products in our time!
Motorized Roller Shades And Venetian Blinds
Not all windows have deep enough frames for thick paneled blinds. In such cases, we can design you a set of motorized Venetian blinds with free-hanging panels, or some fabric shades. Venetian blinds are an aesthetic fit for all manner of spaces, and they come in blackout style as well! If you need motorized vertical blinds for wall windows or sliding glass doors, the Venetian style is a classic choice. Motorized roller shades are a better fit for shallow windows with a bit of space above the upper frame for the electric opener.
Electric Blinds With Rigid Frames
Sometimes, you need the real deal heavy panel blinds. Motorized vertical blinds and horizontal ones with thick wood, metal, or composite slats are the most durable and secure. These are also the heaviest window treatments, so motorized blinds of this sort have an extra advantage! You can make blackout blinds out of common, low-cost materials with some thick slats that fit together snugly. These motorized blinds also create a secure and insulated atmosphere for rooms that call for it!
Free Estimates For Motorized Blinds in San Ramon
Motorized Blinds San Ramon provides free consultation services for prospective customers, including quotes on costs and requirements. Our interior design specialists are here to help you make informed choices and get the perfect set of motorized blinds. Call us from anywhere near San Ramon for free estimates on motorized blinds for windows or doors. Get started today by arranging a complimentary consultation appointment!