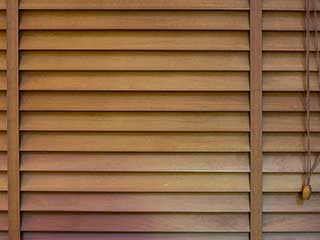 Wood looks beautiful when used to create window blinds. No doubt about that. But it also requires all sorts of special upkeep methods. Luckily, that same elegance comes without maintenance. Faux wood blinds bring you all the benefits of real wood, with none of the drawbacks. The Motorized Blinds San Ramon team can craft a range of high-quality faux wood window treatments that enable you to bring true beauty to any part of your property. Choose from a vast selection of different designs and customization options. We stock a huge variety of faux wood blinds options, so you'll have an easy time finding the right one for your needs. To help you decide, we even offer free consultations at your San Ramon address, with no purchase obligation.
Cheap Imitation Wood Blinds Prices
One of the main benefits of using faux wood materials for window blinds is affordability. They cost a lot less than actual wood. That means easily affording to install faux wood window treatments in your home or business space. That's great news for San Ramon and nearby residents who want to improve their property without spending top dollar. Our range of beautiful wood grain textures for blinds may have the appearance of actual timber, but they don't have any of the drawbacks that come with organic wood. You'll get all the benefits of our custom faux wood blinds design process, including customizable vanes, colors, and many other aspects.
Wood-like Blinds To Add Decor
We recommend faux wood blinds as an excellent addition to your property. We create the imitation wood window blinds from PVC, vinyl, or other materials that bring many advantages over traditional wood. These materials are unaffected by moisture, which is one of the main drawbacks that wood has. You'll never have to worry about rotting and warping wood, even if you get faux wood blinds installed in high-moisture spaces like kitchens or the bathrooms. Clean faux wood window treatments by simply wiping them. That's it. They never need special treatment to retain their resilience. There are many good reasons to choose to get imitation wood blinds installed in your home. From the affordable price to the beautiful textures without the special maintenance requirements of real wood. There's an excellent option for every taste and budget.
Motorized Faux Wood Blinds For Windows
To enhance your home even further, consider investing in some cutting-edge technology. Our low prices on motorized blinds from faux wood make this an easy way to boost convenience at your home. You can alter the vane position of your wood imitation blinds anytime by pressing the remote control button. Or even using your smartphone! The Wi-Fi and/or Bluetooth control options let you sweep open your faux wood window blinds or ensure that they're properly closed. With remote control methods, adjusting the blinds becomes easy and quick. You don't need to set foot inside the room even. You've got wired and wireless options, as well as smartphone connectivity features for remote control blinds that connect with Wi-Fi or Bluetooth.
Cheap Blackout Blinds in Wood Textures
Get total protection from prying eyes, and ensure that unwanted sunlight is kept out, by installing our range of custom blackout faux wood blinds. With vanes that are designed to overlap perfectly, these products guarantee that external light is kept to a minimum. Choose from our range of exquisite wood grain texture blinds to find the perfect combination of beauty and practicality. The blackout feature makes such blinds excellent for more than aesthetics. They improve upon the décor of the room and also let you darken it completely whenever you want. Or, leave the lights on and close the vanes for complete privacy.
Your Local San Ramon Faux Wood Blinds Source
Motorized Blinds San Ramon provides a huge range of choices, including all sorts of wood grain textures for blinds. We give you absolute control over the faux wood window blinds design and features. You can customize colors, operation methods, and more before placing an order. Our experts know how essential it is to get the right fit for your interior décor, so we offer no-cost consultations at any local bay area office or home. Get in touch with us via our service hotline to set up a free quote & consultation appointment.