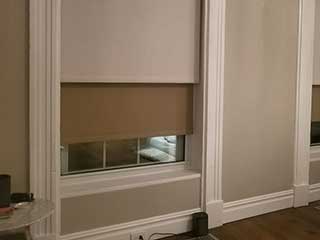 Choosing new covers for your windows means thinking about what features will offer you the best bang-for-your-buck. Blackout blinds are a helpful type of window treatment that, as their name suggests, will create complete darkness in a room. This includes not allowing any gaps around the outside of the blinds themselves for light to come through. You can count on this being the case if you get them from Motorized Blinds San Ramon because our technicians make each set according to the measurements of your windows! That way you know they'll fit perfectly. Blackout blinds are also great for assuring privacy in both homes and businesses, so why not check out more about them below?
Motorized Blackout Blinds For Your San Ramon Windows
If you're going to take the next step in simplifying your busy lifestyle, make sure you're getting the best around with our team! Our motorized blackout blinds are top-quality, both in providing total darkness for any room they're put in, and reliable motorization. We'll help you pick between getting remote controls, using an app on a smart device, or wall sensors, depending on your lifestyle, and the amount of control you want. Regardless, you'll be able to set your motorized blackout window treatments to open and close according to your schedule! You'll finally be free of those fussy, and irritating, manual strings.
Beautiful Skylight and Patio Door Coverings
While skylights and sliding glass doors can look lovely and be useful, they may also play a part in your fluctuating energy bill. Leaving either uncovered will reduce insulation that keeps your home's temperature stable, and increases the need for your AC or heat to run. Direct sunlight also bleaches furniture over time, which causes irreparable damage. This is where blackout blinds made specifically for skylights and glass doors come in. They'll effectively keep out the sun to keep your home cooler, and your belongings safer. This way, you won't have to worry! With door or skylight blackout blinds, you can eliminate sunlight during the day. And you get total privacy at night.
Upgrade Your San Ramon Office with Blackout Blinds
If you don't think that the right type of window coverings can improve the overall work output and efficiency of your business, think again! A lack of window treatments, or the wrong kind, can cause glare on computer monitors. This makes it difficult to work and creates eye strain as well. Too bright meeting rooms can also make it hard to view presentations or struggle with glare on computer screens. Blackout blinds will take care of all of these problems for you right away! They also make perfect additions to personal offices, or boardrooms, to create total privacy as desired. Many commercial establishments, office spaces, in particular, get blackout blinds for their windows for those very reasons.
Sleep Better with Blackout Bedroom Blinds
Make sure your San Ramon bedrooms are creating the perfect sleep environment with blackout treatments! You need good rest to tackle your busy lifestyle, and this may be difficult with too much light outside. Whether it's due to bright streetlamps or needing to sleep during the day, blackout blinds are sure to fix the issue. They're excellent for kids' bedrooms as well, as many children may wake up due to passing car lights, or otherwise. Blackout blinds can also create complete privacy for them when they're closed! Learn more about room darkening window treatments, motorized or in manual form, by scheduling a free consultation appointment at your Bay Area home or office.