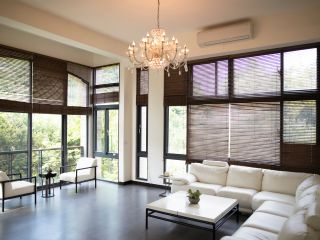 Motorized Window Shades: The Top Choice for Modern Homeowners
Are you in search of the perfect window treatment for your home? Look no further than motorized window shades! In this article, we'll explore the reasons why motorized shades are the most popular window treatment today.
The Benefits of Motorized Window Shades
Motorized window shades offer unparalleled convenience. With the touch of a button, you can easily adjust the amount of light that enters your home or even set your shades to automatically adjust based on the time of day. This makes them perfect for homeowners who are always on the go or who want to simplify their daily routines.
Motorized Window Shades: The Perfect Blend of Style and Convenience
In addition to their convenience, motorized window shades also offer a sleek and modern look. With a variety of fabrics and styles to choose from, you can easily find a shade that complements your decor and adds a touch of sophistication to any room. Whether you're looking for a sheer fabric that lets in plenty of natural light or a blackout option for complete privacy, motorized shades offer endless possibilities.
Brands You Can Trust: Somfy and Lutron
When it comes to choosing a brand, two names stand out above the rest: Somfy and Lutron. These industry leaders offer top-quality products that are designed to last, ensuring that your investment will provide years of reliable performance. Whether you're looking for a single shade or a complete home automation system, Somfy and Lutron have you covered.
Expert Installation Services from San Ramon Blinds
If you're in the market for motorized window shades, it's important to work with a trusted provider who can help you navigate the many options available. At San Ramon Blinds, we offer expert guidance and top-quality products to help you find the perfect solution for your home. From consultation to installation, we're here to make the process as easy and stress-free as possible.
In conclusion, motorized window shades are the top choice for modern homeowners. With their convenience, style, and endless options, they offer the perfect solution for any home. And with top brands like Somfy and Lutron leading the way, you can trust that you're investing in quality products that are built to last. If you need installation services in San Ramon, be sure to contact Motorized Blinds San Ramon for all your window covering needs.