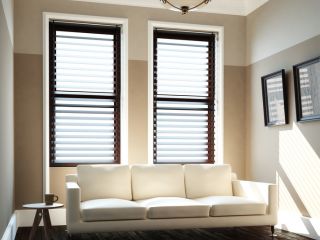 If you're looking for a way to achieve privacy without curtains, you're in luck. There are plenty of window shades available that offer both style and functionality. In this article, we'll explore the benefits of window shades and help you find the perfect solution for your home.
The Benefits of Window Shades
Window shades offer a number of benefits over traditional curtains. They're easier to clean, require less maintenance, and offer a wider range of styles and options. Whether you're looking for something modern and sleek or classic and timeless, there's a shade that's perfect for your home.
Motorized Window Shades: The Ultimate Solution for Privacy and Convenience
If you want the ultimate in privacy and convenience, look no further than motorized window shades. With the touch of a button, you can easily adjust your shades to the perfect level of privacy, without ever having to get up from your seat. And with popular brands like Somfy and Lutron leading the way, you can trust that you're investing in quality products that are built to last.
Honeycomb Shades: The Perfect Blend of Style and Functionality
Honeycomb shades offer a unique blend of style and functionality. They're designed to trap air between the layers of fabric, providing excellent insulation and energy efficiency. And with a variety of colors and styles to choose from, they're perfect for any home.
Woven Wood Shades: A Natural and Rustic Look for Your Home
If you're looking for a natural and rustic look, woven wood shades are the perfect solution. They're made from natural materials like bamboo and grasses, and offer a unique texture and pattern that can add a touch of warmth and charm to any room.
Wood Shades and Faux Wood Blinds: Classic and Timeless Options
For a classic and timeless look, consider wood shades or faux wood blinds. They offer a warm and inviting feel, and are perfect for traditional homes. And with a variety of colors and stains to choose from, you can easily find a shade that complements your decor.

Brands You Can Trust: Somfy and Lutron
When it comes to choosing a brand, you can't go wrong with Somfy and Lutron. These industry leaders offer top-quality products that are designed to last, ensuring that your investment will provide years of reliable performance.
Expert Installation Services from San Ramon Blinds
If you're ready to upgrade your window coverings for privacy without curtains, Motorized Blinds San Ramon is here to help. Our team of experts can help you choose the perfect motorized window shades, honeycomb shades, woven wood shades, wood shades, or faux wood blinds to meet your needs and style preferences. And with our professional installation services, you can rest assured that your new window coverings will be installed with precision and care. Contact us today to schedule your consultation and get started on your window covering upgrade!